[Reporter] Dream Sweet This is the first time to participate in furniture exhibitions, including exhibitions in Dongguan, Guangzhou and Shenzhen.

[Tian Zhiyong] Many times, the dream has been sweet for ten years, this is difficult to count.

Xianghe Furniture City official website recommended search reading: Shenzhen Furniture Exhibition Guangzhou Furniture Exhibition

[Reporter] Will you participate almost every year?

[Tian Zhiyong] Right.

[Reporter] Did the previous Guangzhou and Dongguan exhibitions participate?

[Tian Zhiyong] The exhibitions in Guangzhou and Dongguan are relatively small, mainly in Shenzhen.

[Reporter] Can you please tell us about the brand of dream sweet?

[Tian Zhiyong] Dream Sweet has four brands, three of which are self-owned brands and one is an agency brand. Dream sweet positioning is the high-end Jane European neo-classical style, dream Feifei is young and modern, this exhibition focuses on the dream Feifei. In addition, we have Aiwei mattress is also relatively high-end positioning, as well as the cooperation with Germany's Foley Geller to represent the German company.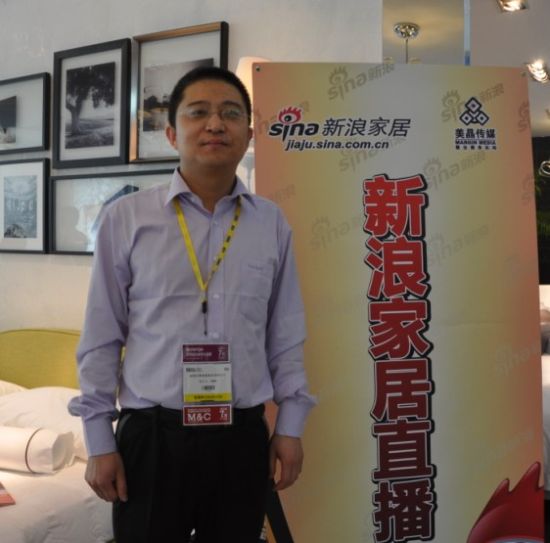 Marketing Director and Deputy General Manager Tian Zhiyong of Shenzhen Mengtian Sweet Furniture Co., Ltd.

[Reporter] What series of products are promoted by today's home furnishing exhibition?

[Tian Zhiyong] The main push is the dream Feifei and Aiwei mattress, Aiwei is a new upgrade.

[Reporter] What brand is this product we are seeing now?

[Tian Zhiyong] This is the Aiwei brand, which is newly upgraded, including some integrated electric smart beds.

[Reporter] Can you introduce the smart bed?

[Tian Zhiyong] can adjust the height before and after.

[Reporter] Which brands are our consumers currently interested in?

[Tian Zhiyong] Consumers can only say what products they like.

[Reporter] Which models are more popular?

[Tian Zhiyong] Consumers have different needs for softness and hardness. There are also materials such as latex or cold foam. Dream Fifi is a bed. Our dream is relatively young and fashionable.

[Reporter] Is it high-end?

[Tian Zhiyong] Yes, but the price is still relatively high.

[Reporter] Have you come to our Shenzhen Furniture Fair today to see if you are going around?

[Tian Zhiyong] Just started to exhibit, but I haven't had time yet.

[Reporter] Do we have a goal at this exhibition or what effect do we want to achieve? Is there a certain direction before?

[Tian Zhiyong] The key is to let everyone know about this product of Feifeifei. In fact, many people have already paid attention to us before the exhibition. When we launched it, it was released in a small scope at the beginning. There are already retail stores and monopoly stores. This time it was officially launched.

[Reporter] How many terminal stores do we have in the country?

[Tian Zhiyong] Some of the original sweet dream dealers already have stores, which was officially promoted at the Shenzhen Furniture Fair.

[Reporter] This main purpose is to attract investment?

[Tian Zhiyong] Yes, the main purpose is to attract investment.
[Reporter] Is there an expected goal, how much?

[Tian Zhiyong] Dream sweet is best for first-tier cities, can be placed in second-tier cities, dream Feifei this product positioning is fashionable and young, there is no requirement for the region, because the cost is relatively high, the first, second and third lines can be opened, Beijing Shanghai can, down to the third-tier cities, dealers are not too high for the choice of shopping malls, the key is that if the mall positioning can have a certain degree of visibility.

[Reporter] A lot of companies come to the exhibition today, and there are many brands in the same industry. How do we dream of how to highlight our competitiveness among many brands?

[Tian Zhiyong] First of all, the quality is the sweet dream that has been adhered to for so many years. It is also the best product quality in the industry. Then our development ability is very strong. You can see the sweet dream products on the market. From the design of the product can not find competition with it.

[Reporter] Our original aspects are better.

[Tian Zhiyong] Right. This time, Feifeifei has a very clear positioning. The design has a clear positioning from the age level and the consumption ability, which also reflects the development advantages.

[Reporter] I visited this exhibition and found that the positioning of furniture brands has become more and more clear in recent years, and it is very detailed. For example, I just strolled around the circle to have children, teenagers, and wedding rooms. Like our position, it is mainly a young one. This is not a trend for us. Although the cake is so big, it will become thinner and thinner. Minute.

[Tian Zhiyong] Yes, we are now subdividing for consumers under the age of 30.

[Reporter] Can you say that it is aimed at white-collar workers?

[Tian Zhiyong] For those who have taste, and then some people have requirements for the price of this product.

[Reporter] I have contacted a lot of furniture dealers this year. They all generally feel that this year is not very good. We will feel some pressure in attracting investment and pushing products.

[Tian Zhiyong] We can still use this product. It should be said that the positioning is relatively clear. If you think that your own shopping mall is suitable, they will generally choose, and then we also give a certain degree of marketing support.

[Reporter] What kind of marketing strategy will we adopt this year?

[Tian Zhiyong] We will do less marketing before, and then there will be regular and irregular marketing planning teams to take the initiative to plan marketing activities, and then send personnel to the dealers for some support.

[Reporter] There are also some international brands coming to the exhibition this year. Do you think we have no place to learn and learn about international brands?
[Tian Zhiyong] First of all, I think that if I can achieve an international brand, he should have a product quality that is excellent, and the product can stand the test. What we have been learning is what we have been doing. Dream sweets, including the sweet sweet agent of Germany, the quality of the products of the company is first-class, which is what we need to learn from others. Maybe it is an international brand, especially it needs time to precipitate, maybe a hundred years and eighty years of precipitation, before there was no advertising, I think these are not brought by advertising, this is what we need to learn from them, that is to products Quality is the core. If this international brand can go global, its product development should also have an absolute advantage, which is where we should learn from them.

[Reporter] In terms of brand building?

[Tian Zhiyong] I think that the brand needs to be precipitated. In the end, it needs consumers to evaluate it. It takes time to accumulate and needs quality, including design and development.

[Reporter] It is worth learning from three aspects: product quality and product originality, as well as brand building.

[Tian Zhiyong] Nowadays, many domestic manufacturers who are eager for quick success, advertising or other marketing methods, we all know in the short term, but whether it is a brand, can it be regarded as a brand, and some people think it is a brand. Some people think that it is not a brand. Two or three years have come out, maybe it will be gone after three or five years. But what you said about this international brand I think it should be quality, design, including the entire positioning should be continued to form the international brand.

[Reporter] can stand the test of time.

[Tian Zhiyong] Yes.

[Reporter] Thank you!
Large-size Smart Screen,Large-size Smart Diplay,Large-size Smart Board
Guangzhou Ruixin Touch Control Technology Co., Ltd. , https://www.weetaach.com