The pilot plant completed more than 1200 hours of successful operation
After years of research, the Shanxi Coal Chemistry Research Institute of the Chinese Academy of Sciences has made breakthrough progress in "new catalysts and supporting process technologies for the synthesis of low-carbon mixed alcohols from syngas", completing more than 1200 hours of stable operation in the pilot plant. This technology uses a new copper-iron-based catalyst, under mild reaction conditions of temperature 200-260 ℃, pressure 4.0-6.0MPa, space velocity 2000-4000h-1, CO conversion rate> 80%, C2 + higher alcohol selectivity> 50% , Space-time yield of low-carbon mixed alcohol> 0.23Kg / Kgcat.h, various process performance indicators have reached leading level.
This project belongs to the high-efficiency conversion technology of synthesis gas replacing precious metal catalysis in the field of clean energy. It has the characteristics of low catalyst cost, high atomic economy and strong operational feasibility. With the support of the 973 project of the Ministry of Science and Technology, the Fund 's major projects, the Henan Coal Chemical Industry Group and the Dutch Shell Petroleum Company, the R & D team abandoned the traditional high-temperature, high-pressure harsh synthesis reaction conditions and the use of precious metal high-cost processes, and directed the development The technical route of high value-added chemical mixed alcohols and fuel additives can achieve higher alcohol yield and C2 + alcohol selectivity at a lower reaction pressure and temperature, and realize low-carbon efficient conversion of syngas. At present, Shanxi Coal Chemical Institute has applied for 7 national invention patents.
The successful operation of this pilot plant has laid a solid foundation for the 10,000-ton industrial demonstration of syngas to low-carbon mixed alcohol, and has the industrial application prospect of replacing methanol process technology. In the context of increasing crude oil supply in recent years and the continued downturn in the methanol alternative fuel market, this technology is expected to become an important way to reduce oil dependence and avoid risks in the methanol market.
BODA is an unique Manufacturers & Exporters of FIBC/Jumbo Bags/ Big Bag from china, jumbo bag /Big Bag/ bulk bag is an ideal and cost effective packaging solution for storing and handling bulk quantity of materials
Pp Container Bag is an ideal solution for the temporary storage and transportation of dry bulk good. boda is a premier manufacturer of FIBC Jumbo Plastic Bags in hebei. Our offered Empty Tonne Bags is designed and fabricated by utilized of high quality assured flexible thread, fabric and latest advanced machinery as per the set global standards.
| | | |
| --- | --- | --- |
| No. | Item | Specification |
| 1 | Size | 85cm*85cm*90cm/90cm*90cm*100cm or customized |
| 2 | Body construction | 4-panel/U panel/Circular panel/Tubular panel/rectangular type |
| 3 | Top | Open mouth/skirt mouth/ filling spout |
| 4 | Bottom | Flat /discharge spout |
| 5 | Loop type | side seamed /cross corner/double stevedore with 2-4 belts |
| 6 | Printing type | one or two side with 1-3 color off set color |
| 7 | Optional parts | document pouch/label/rings/PE liner |
| 8 | SWL | 5:1/3:1/6:1 |
| 9 | Loading capacity | 500kg to 3000kg |
| 10 | Color | white, yellow, blue or customized |
| 11 | Fabric weight | 100g/m2 to 240g/m2 |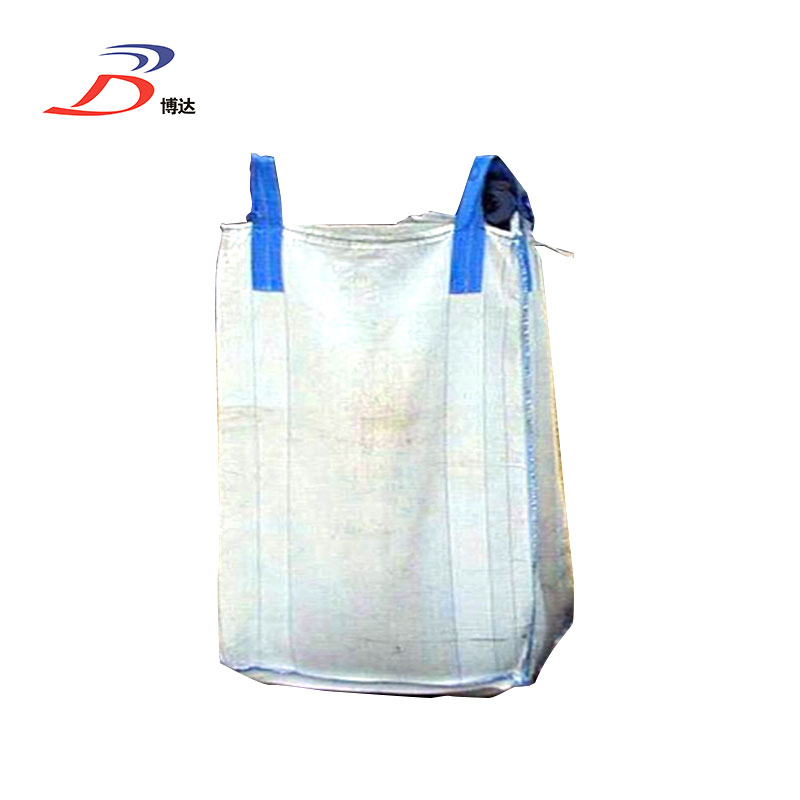 jumbo bag, bulk bag, container liner, pp super sack, sling bag, ton bag
Shijiazhuang Boda Plastic Chemical Co., Ltd. , https://www.ppwovenbag-factory.com